Two new diocesan bishops have been elected in Montana and Taiwan in recent weeks. The Diocese of Southern Virginia has announced the nomination of two additional candidates by petition for its episcopal election, which is scheduled for September 21.
The Rev. Marty Stebbins, rector of St. Timothy's Church in Wilson, N.C., was elected as the tenth Bishop of Montana, and the first woman to serve in this role, on July 25. Stebbins was chosen on the third ballot from a slate of three female candidates. Raised in a military family, Stebbins was a professor of veterinary epidemiology before she answered the call to ordained ministry. A graduate of the Seminary of the Southwest, she was ordained in 2005 in the Diocese of North Carolina, and has served there since. She has been rector of St. Timothy's in Wilson for more than nine years, and has served in a variety of diocesan and community leadership positions.
Provided she receives the necessary consents, Stebbins will be consecrated on December 7 in Helena. In her candidacy materials, Stebbins said, "My goal for the Episcopal Diocese of Montana is that we continue to be a strong voice in every community for the hope, love and reconciliation of our Lord Jesus Christ. I envision this happening by empowering lay leadership, encouraging the growth of our diaconate, and nurturing joyous worship of God, led by priests who love Christ and the people to whom they are called to serve."
The Rev. Lennon Yuan-Rung Chang was elected as the sixth bishop of Taiwan at a convention held on August 3 at Saint James Episcopal Church, Taichung. Chang was elected on the second ballot from a slate of three candidates, all from within the diocese. The Diocese of Taiwan is the Episcopal Church's only Asian diocese, a member of Province VIII. It has 17 churches, and was established in 1954 by Chinese Episcopalians who fled to Taiwan from mainland China after the Chinese civil war.
Chang's life and work has been focused around Saint John's University in Taipei for many decades. He was baptized there as a student in 1970 and was a professor of mathematics there for 33 years. Shortly after his ordination in 1995 he became chaplain to the university and then rector of Advent Church, Taipei, which is located on the university campus, serving as both a chaplaincy center and a parish church.
Saint John's University in Taipei is the successor of Saint John's University in Shanghai, which was founded by the Episcopal bishop Samuel J.I. Schereschewsky in 1879. Saint John's in Shanghai was among the most prestigious universities in mainland China before the Communist Revolution, often known as "The Harvard of China." In 1952, the Chinese Communist government forced Saint John's to surrender its name and independent identity, and its resources and facilities were merged into several state-run institutions. A group of Taiwanese alumni supported its reestablishment in Taipei in 1967, under the leadership of the Rt. Rev. James C. L. Wong, the first Chinese bishop of Taiwan.
Chang held up Bishop Wong as his role model and inspiration during his acceptance speech after the election. He cited Wong's motto, "Transforming lives through the life of Christ," adding, "in the future, I will inherit Bishop James Wong's legacy motto, to lead all of you to commit to this comprehensive mission." After receiving the necessary consents, Chang will be consecrated by Presiding Bishop Michael Curry on Feb. 22, 2020.
Two priests from within the Diocese of Southern Virginia, the Rev. Dr. Harold Cobb, Jr. and the Rev. J. Derek Harbin have been nominated by petition. The two new candidates join four candidates selected previously by the diocese's search and nominating committee, all of whom were from outside the diocese.
Cobb is the rector of Grace Church in Norfolk, Va., a predominately African American parish. During his 14-year tenure, the congregation has established a food bank that feeds 4,000 families per year, and has partnered with another Episcopal congregation to establish a ministry that is the city's largest builder of affordable housing. A former urban church planter, Cobb has also mentored and sponsored four candidates for ordination in the diocese during his ministry in Norfolk.
In articulating his sense of call to the episcopate, Cobb wrote, "If it is God's will and I am fortunate enough to be given the call to serve as your Bishop, I will lovingly and faithfully give it everything I have. I see myself as a servant leader, called to inspire, help, heal, educate, edify and serve God's people."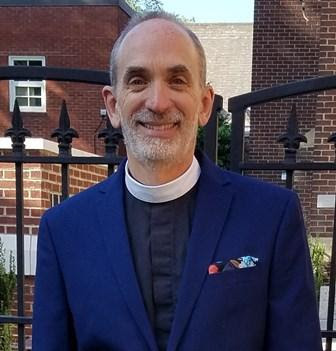 Harbin has served as rector of St. John's Church in nearby Portsmouth, Va. since 2011, leading the congregation through a period of significant growth and expanded ministry. He previously was a church planter in Charlotte, N.C., where he founded the Church of the Beloved, a congregation focused on reaching teenagers and young adults. A former adjunct professor at Seabury-Western, he has taught widely on church planting and adapting Episcopal liturgy for mission-focused contexts.
In his response to questions posed by the search and nominating committee, Harbin said, I have had extensive experience leading and addressing meaningful change. I have introduced processes to help unchurched adults embrace the Christian life. I have developed worship that is faithful to Anglicanism and connects with those for whom traditional Anglican worship does not often reach. But most significantly, I have helped numerous congregations go out from the doors of their buildings and follow Jesus into the neighborhood. For that is where I believe the Church is called to be in the 21st Century."